If you have an innovative technology in the Bluetech space, join InterACTION Bluetech 2021 to explore pilot, investment, and other collaboration opportunities with the main testing facilities, investment groups, and stakeholders in the US East Coast. Join online meetings and sessions to leverage international resources that will help you boost your company or project to the next level.

Connecting International Blue technologies and products with US commercial partners, testing facilities, and capital.
The ocean economy spans multiple sectors – including fishing, aquaculture, shipping, marine robotics, offshore wind energy, tourism, defense, and marine biotechnology – and is growing rapidly. According to the OECD, the ocean economy is projected to double from 2010 to 2030, to reach USD 3 trillion.
---
InterACTION Bluetech 2021 -WHAT TO EXPECT
Explore pilot opportunities
Specifically designed to introduce you to local testing facilities that can pilot and demonstrate your technology to support your commercial expansion in the US. Explore joint R&D projects with key partners in the US as a first step for your market entry.
Expand your network in the US Bluetech ecosystem

InterACTION will help you develop your network in the US Northeast BlueTech ecosystem through meaningful collaborations. Learn about key aspects to succeed in the US Bluetech market access.
Understand what Bluetech investors are looking for in your pitch
Join a dedicated session where you'll have the opportunity to pitch your company to US Northeast investors specialized in Blue Economy.

---
DATES & FORMAT
InterACTION BlueTech 2021 ONLINE program
InterACTION Bluetech Sessions & Workshops
Feb 17th & 18th, 24th & 25th, and March 3rd & 4th
(6 days, around 3.5 hours each day)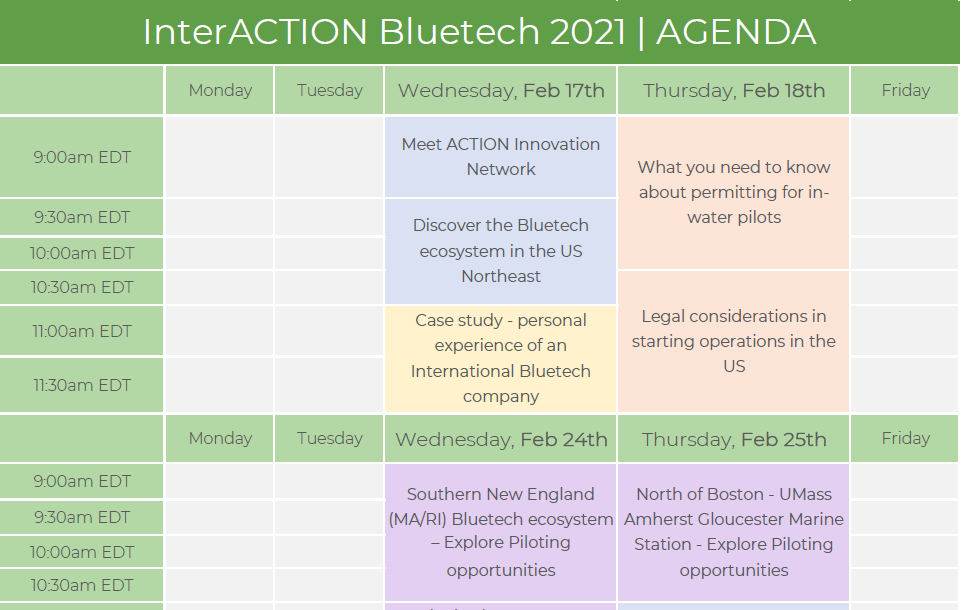 Award
Thanks to our partner Blue Innovation Center, one of the companies participating in the program will win a virtual desk at the Blue Incubator, and mentoring to help set up a pilot in New England.
(more details and selection criteria in the Terms & Conditions)

Congratulations to Eskuad, the winning startup of 2021's InterACTION Bluetech program!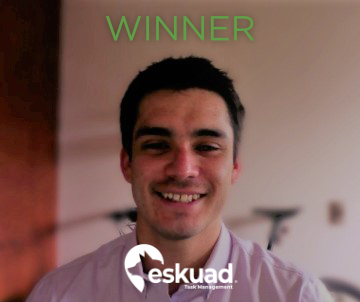 ---
REGISTER
Registrations are closed
Join InterACTION BlueTech 2021 and connect with the US Northeast Bluetech commercial partners, testing facilities, and capital.
Limited spots available, enrollment on an ongoing basis.
(more details in the Terms & Conditions)
Cost
$299 for admitted companies
(partly subsidized by the US Economic Development Administration; actual program cost: $2,000)
---
WHO SHOULD ATTEND

InterAction is committed to facilitating conversations that spark pilot deals and collaborations across Bluetech subsectors. To advance the most successful deals and collaborations, all major players are saved a seat at the table. This program is designed for:

International companies, startups, and projects:

Companies with a blue technological product that want to expand their commercial activity in the US East Coast.
Startups with early-stage products that are interested in prototyping and testing it in a US facility as a first step to build relationships with the US East Coast.
R&D projects developing technological solutions in the Blue space can explore research or development partnerships with US Bluetech facilities and groups/universities.

Sectors: Ocean / Maritime, Aquaculture, Marine Robotics, Energy (including Offshore Wind), Defense.
Scientific or technological evidence of the technical approach is recommended, as well as clearly defined IP strategy or likelihood of obtaining a strong patent position.
High-level English language skills.
If you have any questions, please contact us.
---
ABOUT InterACTION BLUETECH

ACTION Innovation Network is an association of innovation centers that represent an established community of committed partners from industry, academics, private sector and government.
InterACTION Bluetech 2021 is run in partnership with the Blue Innovation Symposium, the Blue Innovation Center, and the University of Massachusetts Amherst Glucester Marine Station; and is sponsored by the US Economic Development Administration.

The Blue Innovation Symposium is the premier event in New England for connecting the marine technology industry for education, networking and facilitating partnering opportunities. The conference brings together a broad spectrum of representatives of the marine technology industry from the US and beyond.

The BLUE Innovation Center (or just "BLUE") is the first BlueTech, water security & coastal resiliency hub on the US Eastern Seaboard with direct access to the Ocean and is currently in development to co-locate the BLUE Institute Labs, PBC and its sister non-profit the BLUE Institute. The BLUE is designed to serve the Blue Cluster of Academia, Government and Industry alongside start-ups & students and will offer shared collaborative on-sight services, co-working & office space, labs and reliable ocean access for testing, training, and teaching in a BlueTech and the wider blue economy ecosystem.